SKU:VECOBAT6HO

White | 64W | 4000K | 5200lm | IP20 | 30000hrs |



We are currently out of stock.
Please add to cart to put on back order.
Regular price
£40.21

ex VAT




Regular price

£48.25

incl VAT
Regular price
Sale price
£40.21

ex VAT




Sale price

£48.25

incl VAT
Unit price
per
Sale
Sold out

Please note extra carriage charges may apply to this product. Please click here for more information
View full details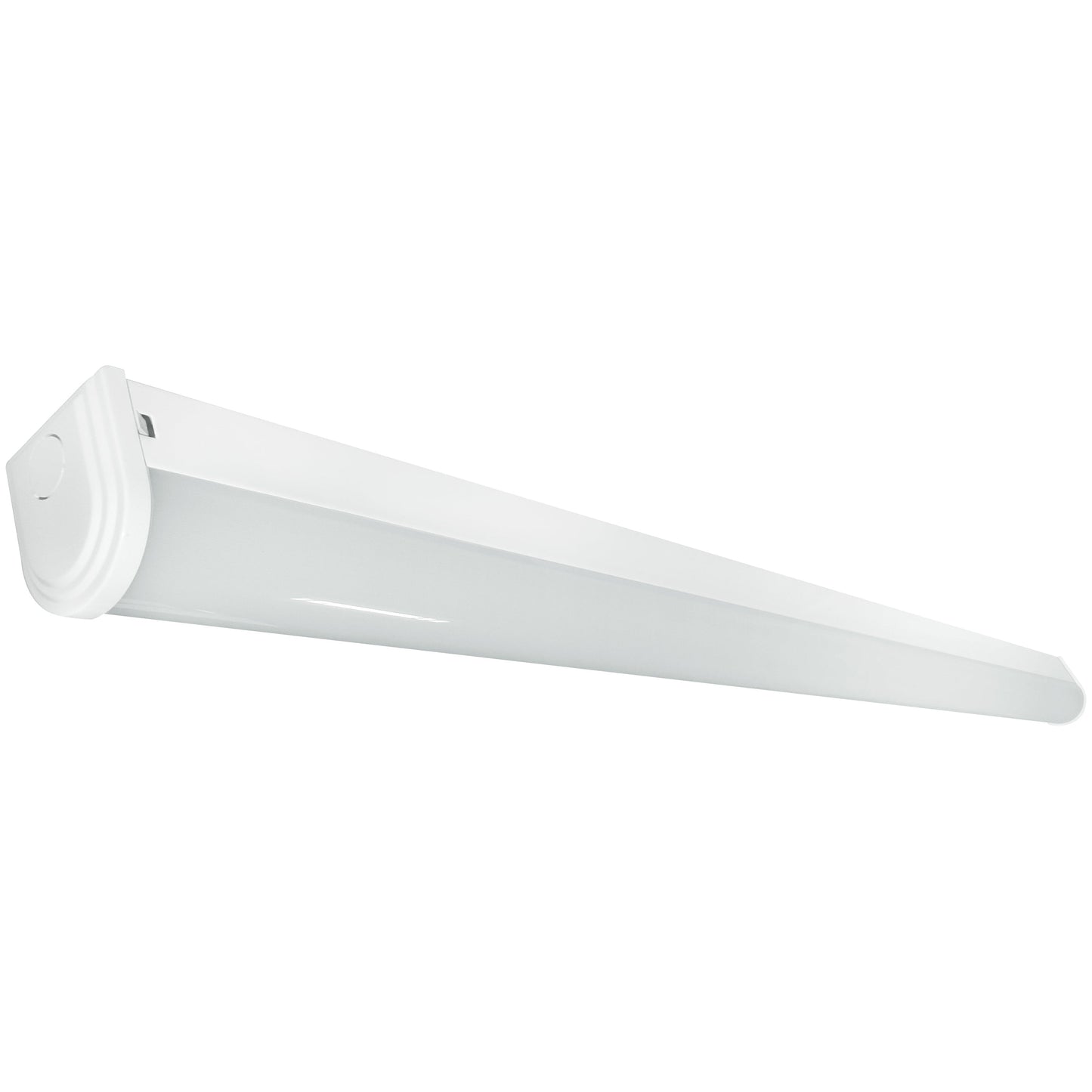 Eterna VECOBAT6HO 6FT High Output LED Batten
Eterna VECOBAT6HO
√ Pressed steel body and polycarbonate diffuser
√ LED tray can be removed from the housing for easy installation
√ 20mm knockout glands at each end for through wiring options
√ BESA box mounting
√ Gear tray retaining straps
√ Up to 105 lm / W

Eterna VECOBAT6HO 6FT High Output LED Batten White: Brilliant Illumination for Your Space
Enhance your environment with the Eterna VECOBAT6HO 6FT High Output LED Batten in White, a lighting solution that delivers exceptional brightness and efficiency for various settings.
Key Features:
Unmatched Brightness: The Eterna VECOBAT6HO is engineered for impressive illumination. Its high-output LED technology ensures that your space is brilliantly lit, making it ideal for industrial, commercial, and large residential areas.

Extended 6FT Length: Cover a broad area effortlessly. This 6-foot LED batten fitting is perfect for spaces that require ample, high-quality lighting, such as warehouses, workshops, showrooms, and more.

Sleek White Finish: The clean white finish adds a contemporary touch to your surroundings. Its minimalist design effortlessly blends with various decor styles, elevating the aesthetics of your space.

Robust Construction: Built to withstand rigorous use, this batten fitting guarantees long-lasting performance even in demanding environments. Its durable construction ensures reliability.

Instant, Flicker-Free Lighting: Unlike traditional fluorescent lights, this LED batten fitting offers instant, flicker-free illumination. Enjoy immediate, consistent lighting without any delays or flickering.

Uniform Light Distribution: Experience even light distribution across the entire length of the fitting, eliminating shadows and ensuring every corner of your space receives uniform, brilliant lighting.

Versatile Application: Whether you need to illuminate an expansive industrial area, a retail space, a large office, or a spacious kitchen, the Eterna VECOBAT6HO excels in diverse lighting scenarios.

Effortless Installation: Installing this batten fitting is straightforward, and it comes with all the necessary mounting accessories for your convenience. Enjoy hassle-free installation and immediate benefits from superior lighting.

LED Durability: LED technology is renowned for its longevity. The Eterna VECOBAT6HO is designed to provide reliable performance, reducing the need for frequent bulb replacements and maintenance.
Elevate your lighting to the next level with the Eterna VECOBAT6HO 6FT High Output LED Batten in White. Experience the brilliance and energy efficiency of LED lighting, from cost savings to exceptional illumination quality. Illuminate your space with confidence and embrace the brilliance of LED technology today.
Eterna VECOBAT6HO 6FT High Output LED Batten White: Lighting Excellence for a Brighter Tomorrow.
| | |
| --- | --- |
| Colour | White |
| Material | Polycarbonate, Iron |
| IP Rating | IP20 |
| Wattage | 64W |
| Colour Temperature | 4000K |
| Initial Lumen Output | 5200lm |
| Average Lifetime | 30000hrs |
| Warranty | 5 Year |
| Length | 1750mm |
| Height | 67mm |
| Width | 58mm |
All orders are despatched via the Thomas Electrical Distributors warehouse.
We recognise that time is of the essence when it comes to your projects, so we offer a next working day delivery service as standard on the majority of our products**
Order by 3pm for next working day delivery (Mon-Fri). 
All our deliveries are free over £100 excluding VAT. We use DHL and Royal Mail as our courier. Once an order is placed, DHL/RM will contact you (If an email and mobile phone number are supplied).
If an order is placed on the weekend, we will dispatch on Monday for delivery to you on Tuesday if in mainland UK. If an order is placed on a Friday it will be with you on Monday.
**Please check the individual product page on estimated delivery times.
Remote areas: Scottish Highlands, Northern Ireland, Channel Islands and UK Islands such as Isle of Man might be subject to an additional delivery charge depending on the size of the order. If this is the case we will contact you.
These locations will also have a 48 hour delivery service due to distance.
Couriers can deliver up to 8pm but you will have received a timed delivery notification prior to this.
Free delivery does not apply to some products that are required to be delivered by pallet to avoid damage. The cost of this is £100 excluding VAT per pallet. Please note that although every effort is made to try and guarantee a next day delivery for orders shipped by pallet. Sometimes it is a two to three day service.  
Free delivery also does not apply to some products over 1.19 metre in length. This is due to the additional costs of shipping products of this size. The cost of this is £25 ex VAT per bundle, with the number of lengths per bundle varying by product. Please note that although every effort is made to try and guarantee a next day delivery for orders for lengths, sometimes it is a two to three day service.    
Please note that orders with products over 1.19 metre or requiring a pallet are not sent on DHL. These orders are currently seeing delivery times of 2-3 days.
Order Confirmation
This will be automatically sent to you straight after placing your order, if you don't receive please check your junk inbox to see if it has gone in there. This confirmation also contains a downloadable VAT invoice on.
Delivery Updates
These will be provided via email from us upon despatch and then with tracking details - our couriers will provide timed deliveries so you can arrange to be in within the delivery window without having to wait in all day.
Delivery Carrier
Deliveries will be by Royal Mail, DHL or DPD.
Out of Stock Items
If an item you require is Out of Stock on our website, please feel free to contact our sales team and they will be able to provide an expected in stock date.
Deliveries on Requested Days
If you have a particular day you require delivery please write it on the order notes at checkout and our friendly team will arrange & confirm for you.
Aborted Deliveries
If you or the intended recipient are not available when the delivery is attempted a delivery card will be put through your letterbox, or the courier will send a text. Please follow the instructions to rearrange delivery.
Late Deliveries
While we strive to maintain the highest possible standards, there may be occasional circumstances beyond our control that can affect the delivery timeline. 

Planning Ahead
Please do not schedule or start any installation work until after you have received your order and checked all goods for any defects or missing parts. This will enable you to resolve any technical questions or to order specific additional fittings if needed. We cannot be held liable for third party delays.
We will make every effort to deliver goods on the date or within the dates quoted, however, such dates are a guideline only and Thomas Electrical Distributors shall not be held liable in any way due to delayed deliveries that are out of our control.